Building a dog house yourself is one of the smartest investments you'll ever make.
Not only will you have a far more attractive place for your dog to stay, you can feel proud in the knowledge that you built your best friends home with your own two hands.
Also, building your own dog house just makes economical sense. You can build a dog house for just a fraction of the cost of buying a pre-built one. Most pre-built dog house you buy need to be assembled anyway, you're really just paying hugely inflated prices for the material.
Unfortunately, building your own dog house is not as easy as hammering some wood and nails together. You need to take into account materials, insulation, ventilation, positioning, openings, as well as things like what materials and paints are safe to use.
Fortunately for you, with the help of a professional architect, I've created some easy to follow plans to building your own dog house. It doesn't matter if your a master carpenter or a total beginner, If you require a big or small dog house, or if you have a small or big budget.
What makes my plans so superior is that they are fully insulated. Most pre-built dog houses you buy from the shop are not insulated, so there is nothing protecting your dog from those hot summers and cold winters.
Introducing My Easy Build Dog House Plans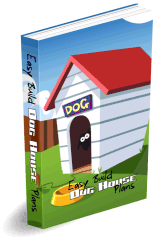 No fancy tools required – We have especially design our plans so that anyone with basic tools like a handsaw, hammer, drill etc can build our dog houses.
Easy To Build Plans – With easy to follow cross-sectional diagrams that include exact dimensions and required materials.
Save money by building your own dog house – Based on our analysis you normally save over 70% by building your own dog house. That can be hundreds of dollars saved.
Print off as many plans as required – our downloadable ebook format allows you to print off as many copies as you want. No need to worry about getting the plans dirty or having to share plans with helpers.
Here are just a few of the many things you'll find in your copy:
How to build a Medium dog house for small and medium size dogs like Dachshunds and Bull Terriers.
How to build a Large dog house for a large sized dog like Golden Retrievers and German Shepherds.

How to build a Medium size duplex house for multiple small or medium size dogs.
How to build a Large size duplex house for two large dogs.

Separating wall can optionally be removed to allow all dogs to sleep togeather.
Plans are shown exactly to scale with step by step diagrams and full material list and dimensions.
Houses feature insulated walls and raised floors to keep your dog warm during winter and cool during summer.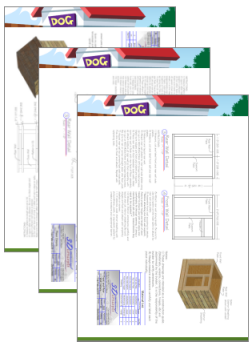 Step-By-Step Easy To Follow Plans
For those of use in colder climates, the plans allow for additional insulation to be added to the walls when building.
Houses include generous overhang on roofs to protect the dog and interior from wind and rain.
Openings built to standard size to allow for an optional "dog door".
And much much more…
Try For 60 Days

100% Risk-Free Guaranteed
If for any reason whatsoever you feel that Easy Build Dog House Plans is not a worthwhile investment, simply let me know within 60 days and I will promptly refund the full purchase price.
It's our trusted 3rd party retailer ClickBank's policy to honor all requests within in 60 days. So you can be 100% assured your purchase is risk-free.

Download Your Copy Today And

I'll Give You These 2 Free Gifts…
Pimp Your Dog House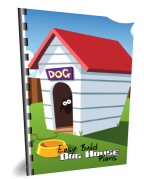 How to paint your dog house to give it your own personal touch
How to create your own miniature dog house garden and landscaping
How to add those finishing touches that turn your dog house into a dog home
How To Keep Your Dog House Warm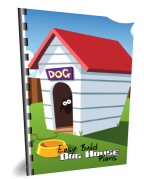 How to best position your dog house to get the most protection and the most sun
Discover the best sleeping materials to keep your dog nice a cool
Learn why the right size kennel is vital for keeping the internal climate perfect
It's So Quick And Easy To Get Started
I've made getting started so easy and quick that any one can do it. All you need to do is click the red order button below. You'll then be taken to the 100% safe and secure ClickBank® order form. You don't need to sign up for an account, simply fill out your payment or PayPal® details and follow the prompts.
As soon as you've made payment you'll be directed to our secret members only page where you can instantly download Easy Build Dog House Plans and your free bonuses. You can then start reading your copy right away.
Wishing you and your best friend many days of enjoyment with your new dog house,



Easy Build Dog House Plans Author
Download Now

Yes Bill, I want to try Easy Build Dog House Plans risk-free for 60 days.
I understand that I can request a full refund at anytime during this period. If I think that Easy Build Dog House Plans is not worth my small investment.
OK, I'm egger to start building my own dog house, lets get started…
Easy Build Dog House Plans in PDF format

$29.95 $19.95

Bonus #1: Pimp Your Dog House in PDF format

$9.95 $0

Bonus #2: How To Keep Your Dog House Cool in PDF format

$9.95 $0
All Yours Instantly For: br>
$49.85 $19.95 USD.
Unfortunately I cannot guarantee you how

long the above price will remain as it is a

special introductory price. So be quick!
br>

24/7 Payments. Instant Download. br>

100% Safe And Secure Server.
The secure order page will appear like this: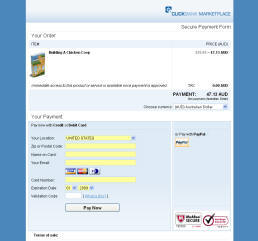 PS. Once you've built your dog house, be sure to send me a picture of your dog house along with a short testimonial. Both our readers and myself would love to see how it turned out.