"Make Blood Flow Where You Want It To Go… Your Brain, Your Heart and ALL Your Parts."
"Think Faster, Feel Tingly Pleasure,

Pumps Up Clitoral and Penile Erections."
Save Up To 25% When You Order Susan Bratton's New Formula Now
Hi Sweetie,
Years in the making, I'm pleased to extend to you an organic sexual support supplement for men and women called FLOW.
As the trusted hot sex advisor to millions, I've studied what helps people have more pleasurable physical intimacy.
People privately complain to me about their inability to achieve or maintain a penile or clitoral erection, they experience diminished genital sensation and increasing lack of orgasmic pleasure as they age.
They don't want to take drugs, they just want sex that feels as good as it did when they were in their 20's.
When I realized how crucial blood flow is to sexual satisfaction I began studying what impacts circulation. That is when I discovered that our Nitric Oxide production diminishes as we age just like our hormone production.
Nitric Oxide is a vasodilator. It relaxes and dilates your blood vessels so blood can circulate more easily and bring oxygen and nutrients out to the tips of your fingers and toes, right up into your brain, through your heart and all the way down into your genitals.
NITRIC OXIDE DECLINES WITH AGE
Nitric Oxide may help support healthy blood pressure levels, cardiovascular and heart health and increases circulation and healthy artery function.
More blood flow to your genitals means the erectile tissue expands more easily. This blood flow to the genitalia is called tumescence or engorgement.
Engorgement works the same in men as in women because women have as much erectile tissue inside our genitals as men do. In females, the clitoral structure and urethral sponge—also known as the G-Spot—is made of the same tissue as the corpus cavernosum and corpus spongiosum in the male penis. We have the same parts arranged differently. We all need good blood flow to achieve tumescence as we age.
Nitric Oxide relaxes the endothelium or smooth muscle tissue in your veins, allowing the blood to flow easily throughout your body.
WHEN NO IS LOW THERE IS LESS FLOW.
Supporting your Nitric Oxide production as you age increases your body's ability to send blood flow everywhere you need it, including to your genitals during arousal.
Plus, more blood flow means more surface area for pleasurable sensations for couples… and singles!
CITRULLINE MORE EFFECTIVE
I discovered that L-Arginine and L-Citrulline work on the cGMP pathways in your body to produce Nitric Oxide. Citrulline is found to be more effective at increasing NO synthesis4.
Most arginine is made in China by fermenting corn in big tanks with specific bacteria that transform the corn sugar into arginine. Then they take the arginine and add an enzyme reaction to make citrulline.
PESTICIDE USE IN CHINA
The problem with these lab-made chemicals isn't that they are made in labs… lots of great things are made in labs. The problem is the PESTICIDES on the corn
2
are chemicals that end up in the white powders used to make all the bulk bags of arginine and citrulline you find on the store shelves.
M

ADE IN THE USA WITH LOVE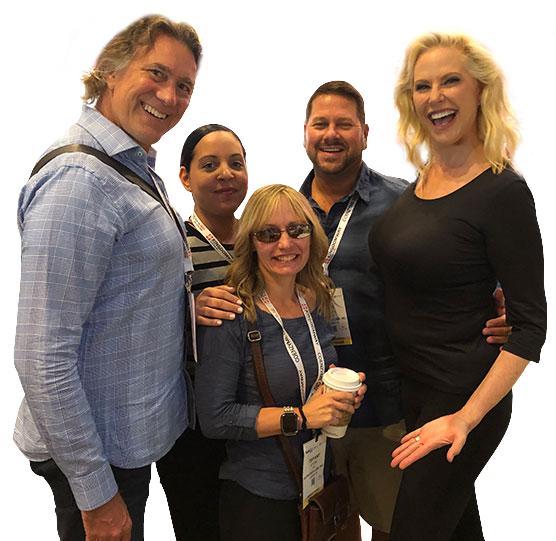 This is why I have been working with a family-owned corporation in the United States of America run by a husband and wife just like Tim and me.
People who have deep experience creating high-quality ingredients.
People who care about the end product.
People who actively manage their government certifications and independent laboratory testing.
A company run by a couple who stand by the quality of their production.
ORGANIC

WATERMELON SOURCE
L-Citrulline is named after watermelon Citrullus vulgaris from which it was first isolated. Our supplier sourced organic watermelons and organic spinach and fermented these REAL FOODS in tanks specifically for the FLOW formulation.
You get all the benefits of plant-based citrulline.
We then added Vitamin C from organic acerola cherries to increase the absorption of the citrulline.
We combined the fruits and vegetables with pinus pinaster from the maritime pine tree for its circulatory effects. And to increase the sustained release of your Nitric Oxide production, we added N-Acetyl-Cysteine.3 NAC is the precursor your body uses to make Glutathione.4
GRANTED GRAS STATUS BY US FDA
In clinical trials, L-Citrulline has been used safely and was well tolerated in children and adults.
⁵
︐
⁶
L-Citrulline is considered safe according to existing data and has been granted self-affirmed GRAS "Generally Recognized As Safe" status by the U.S. Food and Drug Administration.
⁷
Nonetheless, if you have a medical condition, are pregnant, lactating, trying to conceive, under the age of 18, or taking medications (especially blood pressure medications), consult your healthcare professional before using this supplement.
If you've been following my advice for decades or you are just new to my world, you will find that I stand for healthy ingredients that make a real difference.
This new Nitric Oxide booster FLOW is just the first of a series of sexual and health-related supplements we will be bringing to you under this new company, The20.
Our new brand, "The20" comes from the Pareto Principle. This is the 80/20 rule which states that 80% of your results come from 20% of your efforts… If you just knew which 20% was what worked!
Well, we do know what works because we pay for the research data. Then we go the extra mile to make high-quality ingredients for you, our friends and our families. And we put the ingredients that work into our formulations. Because our name is our reputation. Because we want you to be confident you are getting the best source of ingredients possible for all-important Nitric Oxide production.
YOUR TOTAL SATISFACTION

IS MY PRIMARY OBJECTIVE
Therefore, if for any reason you are not 100% satisfied with the investment you make in supporting your cardiovascular health with FLOW, simply return the unused portion within 364 days of purchase. Our experienced customer care team will issue you a full refund of your purchase price, less any shipping and handling fees.
"The organic citrulline and nitrates make FLOW the smartest choice for nitric oxide support."
Dr. Robyn Benson, Founder of The Santa Fe Soul Center for Optimal Wellness, Sexual Regenerative Medicine and Natural Esthetics Expert, GAINSWave Practitioner, O Shot and P Shot Provider, Medical Advisory Board The20, and Host of the Younger with Dr. Robyn Benson podcast
Six Month Supply

Just $22.46 Per Bottle
"Within A Couple Of Days I Noticed It Right Off The Bat – Fantastic!"
"It's Really Added To Our Intimate Pleasure."
"I Like Your Ingredients" "The Idea Of Supporting Circulation Sounded Great To Me."
"Happy Wife, Happy Life!"
WEIGHT LIFTERS

UTILIZE CITRULLINE TOO
Research suggests that supplementing with citrulline could speed up workout recovery because your sore muscles need healthy blood circulation to repair themselves and grow. One study found that taking citrulline before working out decreased muscle soreness by up to 40%.
⁸
WHAT SIZE ARE THE CAPSULES?
Take two capsules daily for an 850mg dosage. They are the smallest size capsule possible to fit the dosage which is a size 0. The capsules contain minimal organic rice powder which keeps the ingredients flowing on the production line. Notice that there is no magnesium stearate in our formulation. The capsules are gelatin, therefore they are not vegan or vegetarian.
In addition to the citrulline being made from real organic foods, FLOW is gluten-free, sugar-free, lactose-free and non-GMO.
We also use recyclable HDPE plastic bottles for sustainable and eco-friendly packaging which can be reused and recycled, again and again. Recycling HDPE reduces the plastics in landfills and our oceans and decreases the number of natural resources used in producing virgin plastic products. HDPE containers are the smarter and greener choice towards sustainability. Please recycle!
WHAT ELSE

INCREASES BLOOD FLOW?
In addition to taking FLOW to boost your blood flow, you can improve your body's circulation by leading a healthy lifestyle that incorporates the following:
Exercise.
Stress management.
Massage.
Hydration.
Smoking cessation.
No fried foods.
Eating healthy fats such as organic avocado, nuts, seeds, extra-virgin olive oil, coconut and avocado oil, sustainable cold-water fatty fish, and eggs.
No sugar.*
*According to Harvard Men's Health Watch article The Sweet Danger of Sugar, "Over time, eating sugar can lead to a greater accumulation of fat, which may turn into fatty liver disease, a contributor to diabetes, which raises your risk for heart disease. Consuming too much added sugar can raise blood pressure and increase chronic inflammation, both of which are pathological pathways to heart disease."¹⁰
Get your blood flowing again with the first organic food-derived Citrulline, supported by Vitamin C, pine bark extract and NAC today. Put this on your counter right next to your multi-vitamin and mineral complex so you take it morning or evening and do your body a favor.
Note: If you are currently utilizing a vacuum erection device, take FLOW 15 minutes before pumping.
Six Month Supply

Just $22.46 Per Bottle
As always, let us know if you have any questions. We've been supporting our customers and followers since 2006.
We are excited to get you in the FLOW.
From Flow To Afterglow, Susan, Tim, and the Team at The 20.
"Well now, I've been taking 2 caps of FLOW every morning for 6 weeks and only recently read the suggestion to take 2 before lovemaking…
OMG – my LoverBoy visited for a Hot Lunch today and we had a 2 hour love making conversation – oral both – maybe 30 min BJ, deep penetration, slow teasing and squeezing at the entrance of my sacred temple … I had 7 orgasms (he was sooo proud of himself …) it was intense, fun, liberating and memorable.
P.S. He is 58, I'm 74.
You have my permission to use this as a testimonial."
— Donna xo
"FLOW works well. I'm feeling like a teenager again: spontaneous wood, like in line at the store thinking about the cashier :)"
— Steve
FREQUENTLY

ASKED QUESTIONS
A: FLOW is for everyone across the gender spectrum. Men, women, and non-binary humans all benefit from support of your cardiovascular system.
A: Nitric Oxide production begins to fall at middle age. Anyone over 40 is an excellent candidate for supporting one's nitric oxide pathways for cardiovascular blood flow.
A: There is a scant amount of organic rice flour that the manufacturer uses as a flow agent. Yes, white rice flour is a starch. It is gluten-free. The organic watermelon juice has some organic tapioca starch. It is gluten-free. There is no wheat starch, no starch hydrolysate, and no MSG monosodium glutamate.
A: No. There is no soy in this supplement. There is also no sugar, lactose, titanium dioxide, methacrylic copolymers, methyl or propyl parabens in FLOW.
A: Organic rice flour is the excipient, flow agent. There is also a scant amount of tapioca starch used in the process to create the citrulline from the organic watermelon juice. There is no magnesium stearate, stearic acid or any other ingredients beyond what is stated on the label. 100% of the ingredients are listed.
A: The large majority of our customers are not vegetarian. Vegetarian capsules are difficult to source and would have delayed our product. We are using gelatin capsules at this time.
A: 850 mg is the dose. Two capsules is the dose.
A: 60 capsules are in the bottle. This is enough for a 30-day supply unless you're taking an extra dose before making love or using a vacuum erection device. If so, purchase multiple bottles.
A: Yes. You can take two capsules each morning as your cardiovascular support. Then take an additional 2 capsules before intimacy to increase genital vasodilation. You will need to order more than a single months' supply if you will be using FLOW as an intimacy pleasure booster.
A: The visual difference may be negligible. What you may likely notice is a firmer, harder erection. You may also notice the veins in your penis standing up a little more from the increased blood flow. If you want to increase your penis size, taking FLOW daily in addition to taking an extra serving 15 minutes before using a vacuum erection device will increase your overall penile volume. Here is my book with exact instructions for reversing atrophy and for penile tissue expansion. Pump Guide
A: Yes. FLOW is part of an overall libido self-care routine. An excellent combination of frequent self-pleasuring while using organic nut oil such as sweet almond or avocado oil for increased lubrication — while taking a daily Nitric Oxide supplement such as FLOW — will support increased circulation to your genital system. Since the female genitals are made up of erectile tissue which needs blood flow for maximizing pleasure, FLOW is the perfect foundation for supporting a strong libido.
A: Yes. Take this supplement, FLOW. It is made to improve erection quality by increasing blood flow to the penis (and to a woman's vulva so have your female partner take FLOW too). Taking a Nitric Oxide supplement is the absolute #1 thing you can do to improve your erection quality. Taking FLOW is the best Nitric Oxide supplement because it's made with real foods such as organic watermelon, spinach and cherries.
A: Take two capsules daily each morning as your maintenance plan. Then take another 2 capsules 15 minutes before using your vacuum erection device. This increases blood flow so that the blood carrying capacity of your genitals increases. The pump helps increase your blood supply and the FLOW supports vasodilation to get even more blood into your genitals. You will need more than one bottle for a monthly supply if you're also taking FLOW before sex or before pumping.
A: Yes. Nitric Oxide is known to support wound healing. Since CO2 lasers and RF outpatient intravaginal devices create subcutaneous wounds of the vaginal mucosa to restore collagen and thicken the tissue of the vaginal canal, FLOW can support the healing of these procedures. FLOW is safe to use with the VFit+ device as well.
International Customers: Import duties, taxes, and charges are not included in the item price or shipping cost. If applicable, these charges are the buyer's responsibility.
All information from Susan Bratton, The20, this website and all of our collective brands' have not been evaluated by the Food and Drug Administration and is not intended or implied to be a substitute for professional medical advice, diagnosis or treatment and is for general information purposes only. If you are pregnant, nursing, taking medication, or have a medical condition, consult your physician before using our products. We have personally vetted and receive affiliate commissions from most of the products and programs we recommend.
For returns, get your RMA # here and send to:
EyeFive, Inc.
c/o The20, LLC
19655 E 35th Dr #100
Aurora, CO 80011
ClickBank is the retailer of products on this site. CLICKBANK® is a registered trademark of Click Sales, Inc., a Delaware corporation located at 1444 S. Entertainment Ave., Suite 410 Boise, ID 83709, USA and used by permission. ClickBank's role as retailer does not constitute an endorsement, approval or review of these products or any claim, statement or opinion used in promotion of these products.